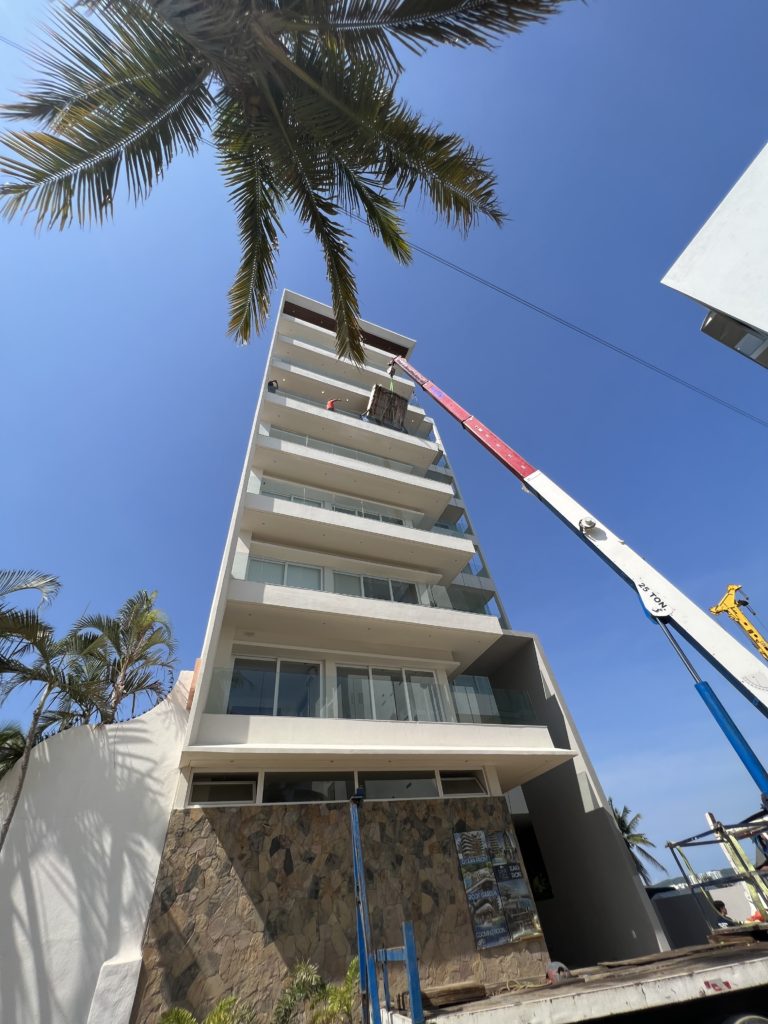 In the heart of the oceanfront landscape stands our client's one-bedroom guest condominium – a testament to innovative design that skillfully sidesteps conventional seaside clichés. This condominium, although adjacent to a two-bedroom suite, takes a bolder turn in its design narrative. Drawing inspiration from its marine surroundings, we introduced a warm palette of coral hues, harmoniously matching the paint shade of its neighboring suite.
The walls of this condominium become canvases for Phillip Jeffries' Boho Block wall covering, a piece from their luxury naturals collection. Crafted from laminated banana leaves and intricately hand-sewn, this wall covering forms an alluring mosaic block pattern. This seamless design extends from the living area right into the bedroom, creating a unified aesthetic experience.
Furnishings are predominantly custom designs by RavenThorn, meticulously crafted by our trusted local artisans. Upholstery for these unique pieces is sourced from exclusive international textile houses, elevating the ambience with luxury and sophistication. The drapery too, is custom-designed, tailored from handpicked textiles exclusive to designers. Further enhancing the space's versatility, all seating arrangements are swivel-based, facilitating easy transition from intimate conversations to breathtaking balcony views.
Our curated décor, drawn from Mexico's crème de la crème, including the elite from the Architectural Digest 100, infuses the space with a fusion of traditional craftsmanship and contemporary aesthetics. The fiery coral undertones, juxtaposed with sandy tans, breathe new life into the concept of seaside living. A poignant piece that graces the walls is the custom fiber art, commissioned from a Ukrainian artist residing in occupied Ukraine. This masterpiece not only showcases the global outreach of RavenThorn's design prowess but also symbolizes our penchant for storytelling through design. In every corner and every detail, this condominium stands as an emblem of RavenThorn Interior Design's limitless imagination and commitment to excellence.